Vitamin B12 and medicines
It's easy to think of vitamins as harmless and just swallow or inject without much thought, but it's always a good idea to read up on any supplement that you are thinking of taking. As my mother always says, "It's better to be safe than sorry".
Vitamin B12 is naturally occurring in foods and considered an extremely safe supplement to take. It is vital to our overall physical and mental wellbeing, however there are some interactions that occur between the supplement and other drugs.
Most of these interactions involve a specified drug simply reducing the body's ability to effectively absorb vitamin B12 that leads to B12 deficiencies that we'd all rather avoid! In these cases, the solution may be as simple as using vitamin B12 injections rather than taking oral supplements or upping the dosage of B12 in order to achieve its desired effects.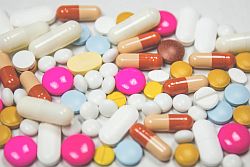 Read more »